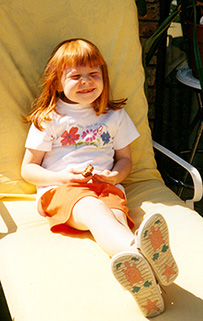 Your photos mean a lot to you. They are your memories. They tell your story. We handle each photo as if it were our own. Whether your story is large or small, affects many or just a few, it is and always will be part of you.
By digitizing and restoring your photos, we offer you the means to continue to tell your story, and to keep your history intact.
The photo shown here was carried for many years, and had been folded in half, causing a fold mark across the face of the little girl. By scanning and restoring the photo, it was returned to it previous quality.
3D Artwork
In the gallery, you will find artwork that is rendered from 3D models. I am building this as a resource that you can use for your projects. You may order high quality images, or custom artwork. Just send me a note describing what you need.
Our Services
Services that we can provide for you include:
Scanning services

We use professional photo scanners to scan your photos at the optimum resolution for your photo
35mm slide and other film images can also be scanned
Negatives scanned and converted to positive images

Photo Restoration

Dust and Scratch Removal
Tone and Color Corrections
Tear and Stain Reconstruction

Color to Black and White Conversion
Black and White to Two Tone Conversion
Retouching

Blemish Removal
Hot Spot Removal
Image Enhancements
Red Eye Removal

Image Manipulations

Distracting artifact removal
Background changes
Cut-Outs
Vignettes
Framing Effect

Digital Image Delivery

Delivery on CD or DVD
Delivery via Electronic File Download
Delivery on Prints
Electronic Slide Shows

3D Models

3D renderings
3D animations
Architectural Renderings
Product Modeling
These are your photos. Your copies will be delivered to you on the media format that you prefer with no artist signature, watermark or copyright image. They are yours to use as you like. Share them with friends, put them on your web site, print as many copies as you wish.